This product catalogue is for reference only. If you require more information on our products please contact our sales team.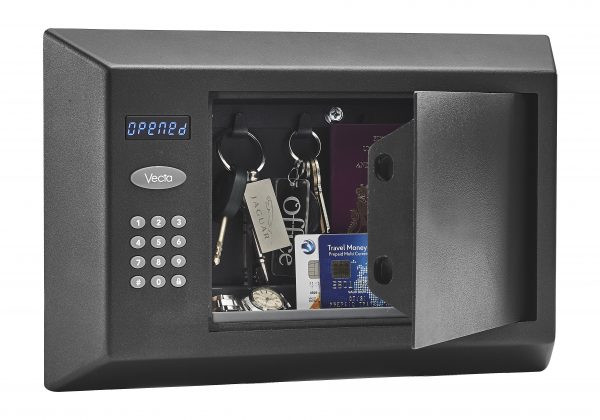 Modern streamlined safe designed for convenience keeping essential items such as keys, passports, flash drives, credit cards, cash and jewellery secure but easily accessible.
Product Description
The Personal Safe is the only product in its class to achieve the Secured by Design and Sold Secure attack test ratings awarded by the UK Police and Master Locksmiths Association.
Convenient, effective security – at the touch of a button.
External dimensions:
Colour: Gunmetal grey
Internal storage dimensions:      Height: 150mm
Width: 200mm
Depth: 45mm
Access: Digital keypad
4-digit PIN User Code
4-digit PIN Administrator Code
Manual override key (2 included)
Power: 4 x AA batteries
Features:             Large easy-read LCD display
Fully motorised with one-touch locking
Steel construction
Two 10mm steel roller bolts
5 minute lockout if incorrect code input 4 times
Low battery warning
These products are just a small representation of the items we have in stock.
The pages are being updated regularly.