Bolton Lock Company Can Supply & Fit High Security Dead & Slam Locks To A Range Of Popular Commercial Vans.
This slideshow requires JavaScript.
"We now can fit the very latest retro lock designed specifically to replace the cab lock for the Ford Transit, Connect, and Custom."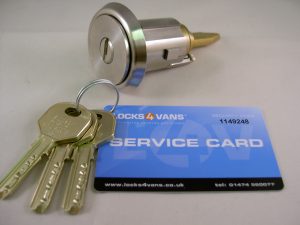 This slideshow requires JavaScript.
We can fit Dead or Slam locks to numerous commercial vans currently on the market. The list below gives you an idea on the vans we recently fitted locks to.
| | | |
| --- | --- | --- |
| Citroen Dispatch |  Peugeot Expert | Toyota Proace |
| VW | Crafter 06 | Nissan |
| Ford Custom | Iveco  | Merc Sprinter |
| Nissan | Renault | Hi-Ace |
| Traffic | Vivaro | Vauxhall Combo |
What is the difference between Dead and Slam locks?
A Deadlock is a mechanical device fitted to a vehicle door. It operates by throwing a bolt into a receiver fitted to the opposing body section when operated by an external key.
As Deadlocks are under the control of the driver, they are generally only appropriate for owner drivers or applications where the driver can be relied upon to operate the lock.
A Slamlock is a device that automatically locks the vehicle door immediately it is shut, without requiring any operation by the driver.
It is primarily designed for applications such as multi drop delivery, high value loads and applications where the owner/ operator requires control over the security of their goods. It is the function that appeals as much as the security.
Another major advantage with mechanical slamlocks is total control. Electronic systems often have either global (all doors) or area (load or cab) unlocking- this leaves the unrequired doors vulnerable until the auto relock action operates. Slamlocks do not have this vulnerability.
Thieves are breaking into many cars & vans by picking the door lock on the driver's door (picks can be easily found online), decoding the key, and then opening all the doors. From here they can steal the vehicle in its entirety by overriding the immobiliser via the OBD socket or empty the contents from the unlocked load area.  
Our Unique, Direct Replacement High Security Door Lock replaces the vulnerable OE Lock and requires no drilling or adjusting of the OE mechanism setup. This device is fitted in 15 minutes and is the perfect solution to this problem.
Key Features:
Direct replacement for the OE lock makes installation easy

High security, anti-drill & pick resistant maintenance free cylinder

Instant protection from lock pick tools

Get fitted the prefect solution to theft